western eye press
BRAVE NEW PUBLISHING FOR A MULTI-MEDIA WORLD
The Second Video in Lito's Breakthrough on Skis Series
Bumps & Powder Simplified
DVD, one hour, $29.95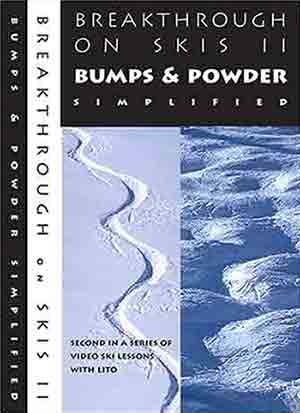 This one-hour, beautifully filmed and edited video Bumfocuses on the two most challenging conditions for most skiers: bumps, and powder.
For most skiers-- most of the time-- "moguls," or bumps, represent a continual and continually frustrating challenge. Powder snow, on the other hand, seems like an ideal of grace and beauty, glimpsed from afar, but seldom experienced or enjoyed to the full. Lito wants to change all that. And he does, in this one-hour tape that breaks the challenge of bump skiing down into simple, basic, easy-to-master steps.
Lito introduces a softer, gentler style of skiing bumps-bump skiing for the rest of us-in which the skier uses the shape of each bump to turn, and to slow down. He reveals and explores different lines through the bumps; the short fast exit from bump turns and the long slow exit. Finally he show you how to put it all together in long continuous graceful bump runs. A revelation! And then, after making friends with bumps, Lito turns his attention to the secrets of powder snow...
How to overcome the greater resistance of deep snow; how to work your skis within the snow; and when to use extra-fat powder skis. He makes it as easy as it looks. Once again, all the techniques in this tape work with the new shaped skis — only now, they work better than ever.
REVIEWS & REACTIONS
"This tape covers what Lito calls 'the frosting on the cake of expert skiing' instruction pure and simple, targeted at mere mortals. No rock music. No big air. Camera angles among the best we've ever seen. Most important, it makes the black art of route finding through bumps easy to understand.The powder section is beautiful to watch, easy to follow, and thoroughly inspiring.you can't help but be inspired."
Bill Grout, senior editor, Skiing magazine
"Personally I figured this one would be a drag: repetitive sow motion footage with some bored voice describing the intricacies of the pole plant and hip angulation. No way, this was riveting, it actually deals with real skiing situations and actually makes sense. The mix of technical wizardry and fairly logical explanations makes it the best ever "learn to ski " video made. No question. Everyone can learn something from this.
Andrew "Cannes" Barnes in Australian Skiing