Paris after the war, a journey through time
Paris
Photographs Across Time from an Island in Paris
by Mary Alice Johnston, 100 pages, available in two editions:
—a large-format deluxe edition, hardbound, 13x11 inches, $105
—a standard-size edition, hardbound, 10 x8 inches, $55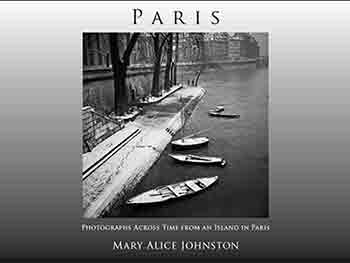 Mary Alice Johnston discovered Paris and photography at the same time. And what a time it was. The 50s, the post-war 50s, the end of the long nightmare of German occupation. And if that wasn't enough to celebrate, Paris was celebrating its two-thousand-year anniversary. 2,000 years in the City of Light… Some of that light was captured in Mary's twin-lens reflex and fixed in her improvised darkroom in the bathroom (or was it the kitchen?) of a small apartment on the Ile de Saint Louis, then as today, the best address in Paris. Another world...
How did Beaudlaire put it? "Fourmillante cité, cité pleine de rêves, où le spectre en plein jour accroche le passant." Swarming city, city full of dreams, where ghosts in full daylight grab the passerby. Mary Alice Johnston too grabbed those passersby with her camera, with her wide-open eyes, filled to the brim with the both the novelty and the timelessness of Paris. Like so many Americans, writers and artists, Johnston saw Paris fresh and new and true, not through the European filter of learned schoolbook history and cultural myth. And today these ghosts of long-ago Paris, the Paris and the Parisians that she caught with her camera still grab us. A city swarming with workers, strikers, young priests, clochards, bums under bridges, kids in parks, barges plying the Seine.
Mary Alice Johnston, our wonderful friend and gifted documentary photographer, passed away March 2, 2014 at the age of 92. To learn more about her long and adventurous life, and see more of Mary's images, we invite you to visit her web site at www.WesternEyePress.com/mary.
Use the BookShow widget, below, to preview the entire book, page by page. Be sure to click the full- screen icon for a larger view. Just below the BookShow widget, you will find a link (in red) that will let you order Paris from blurb.com. Your book will be printed and shipped to you directly.