Mine Work
a novel by Jim Davidson, 300 pages, softbound, $15.95 plus shipping
Also available from amazon.com, and as a Kindle eBook from amazon, or an iBook from Apple's iBookstore, for $9.95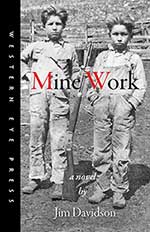 We are thrilled to reissue Jim Davidson's first novel, Mine Work. Originally published to rave reviews in 1999, Mine Work, won all the awards that a western novel can win, and after two sell-out editions, disappeared from sight—victim of the conventional wisdom that pushes publishers to go with the new rather than the lasting. It's a helluva a good read, and with any luck it will never go out of print again.
Reviews were unanimous:
"Mine Work is as fine a novel as has been written about the West's mining past…"
The Salt Lake Tribune, June 18, 2000
"With a tone that is often reminiscent of Hemingway, the author writes a moving tale of not only power and shame but also of redemption...the book is fine reading."
The Denver Post, September, 12 1999
"…flinty and affecting…[Mine Work] explodes...into descriptive sprays of language that evoke not just the West but the West's best writers."
The New York Times Book Review, December 19, 1999
In Mine Work, when Markus Cottin begins digging into some family mysteries his father tells him he will find "only a chain of fools, each one worse than the one that came before." His search takes him to Colorado mining towns, to the Navajo reservation, and around the desert Four Corners region, and the story he uncovers is a painful one of race politics and labor unrest in the 1950s West. After he finds his own family involved in bombings and the murder of a Navajo miner, he can't stop until the story leads him back, link by link to his grandfather, his father, and ultimately himself.
A powerful novel of the Southwest, Mine Work is told with feeling and style by a writer who knows the region, road by dusty road. When first published in 1999, Mine Work won two coveted Spur Awards from the Western Writers of America for best original paperback and best first novel. In multiple printings it quickly became an admired classic of Western writing.