western eye press
BRAVE NEW PUBLISHING FOR A MULTI-MEDIA WORLD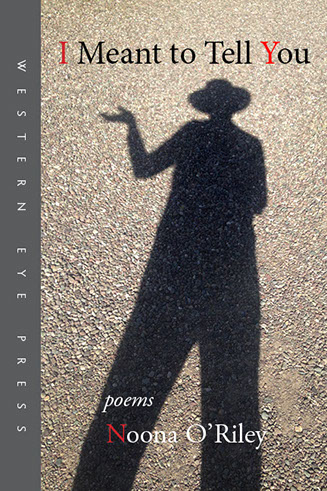 I meant to tell you
the ponies on the top of the hill
live in the wind
and are silhouetted by the mountains
spotted and black in the snow
they move about
with nothing but the sky
on their shoulders
frosty breath
dust
yucca
fur
things on the top of the world
are dry and singular
so intimate
and vast
I meant to tell you that I love you
that I'm leaving
but the words were too big
or too small
laid out across my life
now all we have are words
they come like
snow falling
in the mountains.
POEMS by Noona O'Riley
I meant to Tell You
by Noona O'Riley, 100 pages, softbound
$9.95, plus shipping.
Also available on amazon.com
A collection of heartfelt and heartwarming poems, composed in the bardic tradition of speaking them into being—oral rather than written compositions, celebrating life and those living it in rural Rocky Mountain Colorado and elsewhere across the West. The first book by a popular and much loved community poet who lives, works, and creates her magic in the small and unconventional town of Crestone, Colorado, at the foot of the Sangre de Cristo mountains.